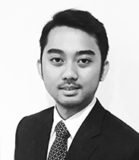 Kemal Farizan joined Mega Yustisia & Partners in early 2016. He graduated from the Faculty of Law, Universitas Indonesia in 2015, majoring in Business Law. During his university years, he was active in several organizations, among others in Asian Law Students Association (ALSA LC UI) and Pers, Fotografi, Film dan Musik Mahasiswa (PERFILMA FHUI). He also participated in Internal Moot Court Competition in 2013 as a participant, and awarded as the 1st winner.
In Mega Yustisia & Partners, he assisted clients in their legal matters, including Civil law and Criminal Law. He also involved in several transactions relating investment and general corporate matters.
He has passed PERADI Bar Exam and currently waiting to be sworn by High Court.